Family Owned & Operated Since 1975
When durability counts, you can count on BPS. 
Established in 1975, BPS Tactical, Inc. (formerly named Blankenship Police Supply) manufactures law enforcement products with an emphasis on quality with custom creation of tactical equipment and nylon duty gear. We also sell our MOLLE pockets and other common equipment from the best brands in the industry in our online store. Shop Now. Please call us or email us to place a custom vest cover order.
Our vest covers and custom products are strongly sewn with only the finest quality American-made materials for maximum wear. We are deeply concerned about the quality of our products and your satisfaction, so we only sell our products directly to our customers. This allows us to reduce costs and maintain strict quality control measures. 
We are proud that over the years, many Federal, State, County, and City Law Enforcement agencies, as well as Military Special Operations Units, have chosen to purchase our products based on the excellent quality and lasting wear and durability. We would welcome the opportunity to provide the same quality products to you. 
FAQs
Yes, if there is a large enough interest, we will come directly to your station/office and do fittings on-site. Please call us to schedule an
appointment.
Go to Order Vests and select your agency for the appropriate order forms. If you are with a different agency not listed, or you aren't sure which order form to use, please email us or call us and we will be happy to help you.
In a wash basin, wash by hand with warm water and mild soap (like Ivory). Rinse thoroughly, lay flat, and pat dry. The vest cover may also be dry-cleaned. For more detailed instructions, please download our cleaning instructions.
DO NOT MACHINE WASH. DO NOT MACHINE DRY. DO NOT
USE BLEACH OR OTHER CHEMICALS.
If you purchased your vest cover within the last 5 years, we should be able to pull your prior order information and original ballistic tracings. Please call us and we would be happy to discuss this more.
If your new ballistics do not fit into your vest cover anymore, please call us ASAP to discuss your options. If your vest cover is still in good condition, we may be able to modify it to accommodate your new ballistics.
If needed, please call us ASAP to discuss modifying or repairing your vest cover. Once we receive your vest cover and confirm the changes needed, modifications and repairs are usually completed in our shop within a few business days plus shipping time.
Please call us at 909-794-2435 or call toll-free at 1-800-510-7776. You can also send us an email at sales@bpstactical.com, and we will respond to your question as soon as possible.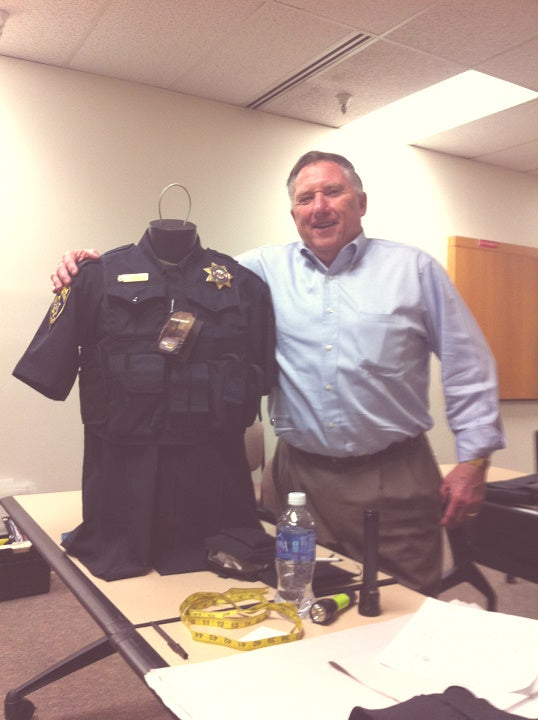 A Message From the Founder & Owner of BPS Tactical, Inc.
"I have been traveling to departments to fit officers for their vests for many years. Since 1975, I have been fortunate enough to build lasting relationships with many of our customers. We would welcome the opportunity to earn your trust throughout the custom ordering process by providing you with the best service in the industry. To ensure top quality, our products are built from the beginning to final construction in-house at our sewing facility in Mentone, CA. In 2021, we also added in-house custom embroidery services to our facility. If you would like to contact us, we will gladly assist you in building a custom, quality product to meet your needs."
                                          Sincerely,
                                                      Bill Blankenship
View Our Vests